Chairman's

Message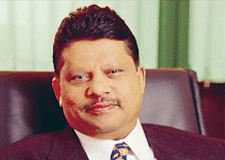 Bridgeway Group began its journey three decades ago. Ever since, it has charted on its journey of formidable growth and consistent innovation. We may have started on a modest scale but our ambition was anything but that.
Every milestone that we cross successfully, compels us to raise the bar every time. This has enabled us to leverage our key competencies to capitalize emerging opportunities in the region's buoyant economy. The Group embraced a fundamental credo of expansion of scale and diversification of core domains.
The road ahead may be fraught with challenges but Bridgeway Group has chosen to see and focus the opportunities that have emerged. Our growth areas will be driven by our business objective of becoming a business solutions provider of choice.
We take pride in our people, celebrate our success, and are committed to upholding ethics in doing business because; the Bridgeway Group is about Business first, Fairness foremost.